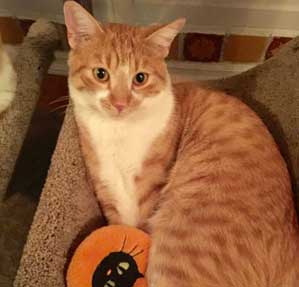 Breed:
Sex: Male
Age: 1 Year
Weight: 3 lbs
Howley is a 1 year old cat that is a sweet and active boy. He would do best as a single kitty. He thinks he is the prince of the house. He is so sweet and fun it is like having a dog in a cat's body. Howley is very smart and funny.

Interested in adopting? We pay for spay or nuetor, shots and microchip.
NO OUT OF STATE ADOPTIONS. Sorry but I am available to residents in the LA and surrounding areas. If interested in adopting me, please fill out an application, call
(310) 650-2870 or email us at eloiserescue@gmail.com.