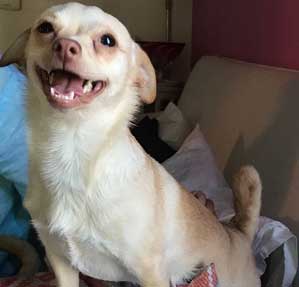 Breed: Chihuahua
Sex: Female
Age: 9 Weeks
Weight: 3 lbs
Pheobe is just a 3 lb Chihuahua who is only 9 weeks old. She is sweet, adorable and healthy. She was rescued from a back yard breeder who surrendered the mom and dad and much to our surprise mom was pregnant with Pheobe. She loves other dogs and is a super pup.

Interested in adopting? We pay for spay or nuetor, shots and microchip.
NO OUT OF STATE ADOPTIONS. Sorry but I am available to residents in the LA and surrounding areas. If interested in adopting me, please fill out an application, call
(310) 650-2870 or email us at eloiserescue@gmail.com.